Dr. Klaus-Dieter Lessnau, MD
Pulmonology, Sleep Medicine, Insomnia Testing, Sleep Apnea Testing, Pulmonary Function Testing
Dr. Klaus Lessnau is an experienced and highly regarded Pulmonology and Sleep Medicine doctor who joined 14 Street Medical Arts team to serve Lower East side community in NYC. Dr. Lessnau is board certified Pulmonology, Bronchology, Sleep Medicine Disorders and Critical Care doctor with over 30 years of experience. Dr. Lessnau is a highly respected and established physician who was named Best Doctor by New York Magazine in 2014. He is currently serving as a Director of Critical Care Medicine at Lennox Hill Hospital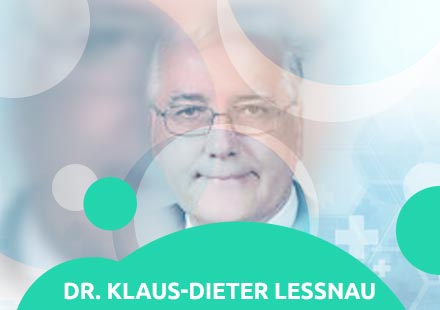 Your upcoming encounter at 14 Street Medical Arts Clinic will consist of two visits, Initial Evaluation (performed by Dr. Lessnau' Pulmonology Staff Physician) and Pulmonology Consultation (performed by Dr. Lessnau):
Initial Evaluation is usually done by Dr. Lessnau' Staff Physicians. During this visit, we will conduct certain routine office procedures and diagnostic tests, as needed, such as Spirometry, Pulmonary Function Test (PFT), X-Ray, Sleep study insomnia, Sleep study apnea, etc., to create underlying diagnostics and data for proper treatment plan. Dr. Lessnau state of the art office capabilities allow patients to do most of diagnostics on-site during their first visit, all diagnostic results are normally ready within a week.
Pulmonology Consultation is performed by Dr. Lessnau, where he will evaluate all diagnostics and data, and create your treatment plan. If needed, depending on condition, Doctor will do "STAT" / "Wet" (immediate) reading.
Based on his experience and highly educated professional work, Dr Lessnau is highly equipped to help his patients to deliver the best treatment available. Dr Lessnau believes that his experience and expertise in the field will allow the very high quality care for his patients.
Specialties:
Pulmonology, Sleep Medicine, Insomnia Testing, Sleep Apnea Testing, Pulmonary Function Testing
Board Certifications:
American Board of Internal Medicine
Critical Care Medicine (Internal Medicine)
Pulmonary Disease (Internal Medicine)
Sleep Medicine (Internal Medicine)
Education and Training:
Medical School - Friedrich-Alexander-Universität Erlangen-Nürnberg Medizinische Fakultät
Cabrini Medical Center, Residency in Internal Medicine
Mount Sinai Hospital and Medical Center, Fellowship in Critical Care Medicine
State University of New York, Downstate Medical Center, Fellowship in Nephrology
Cabrini Medical Center, Fellowship in Pulmonary Disease
Language Spoken:
English, Spanish, German
Gender:
Male
NPI Number:
1083684708
Patient Reviews
LYNN M - August 19, 2019
As always, I had an amazing experience. The staff are welcoming and friendly and very helpful. Dr. O'Weiss is the best doctor that I've had in my entire life. She truly cares about her patients and has an talent to pick up on nuances that might escape someone else. May Dr. O'Weiss live forever because after her, the mold is broken. I cannot day enough good things about her and I'm constantly referring friends and family to her practice.
TYSON D - August 19, 2019
The experience was fantastic. Everyone in the office was extremely personable. The office was clean and very nicely put together with a very modest wait time. Dr. Cynthia Harden was a delightful and extremely pleasurable person to be around. She seemed concerned with all of my issues and very open about taking steps forward to resolve the issue. She made me feel calm and comfortable.
LANDON P - August 17, 2019
Everything thing was really great! The staff is super friendly and very accommodating. Would high recommend!
ANDREIA L - August 16, 2019
It was a great experience ... I was a bit reluctant to go there in the beginning due to some bad reviews but I'm glad that I ignored them. It is well organized and did not have to wait that long. The front desk girls are great and very helpful.